Labor Department Finding In Melrose Case Could Impact Amherst School Reopening Decision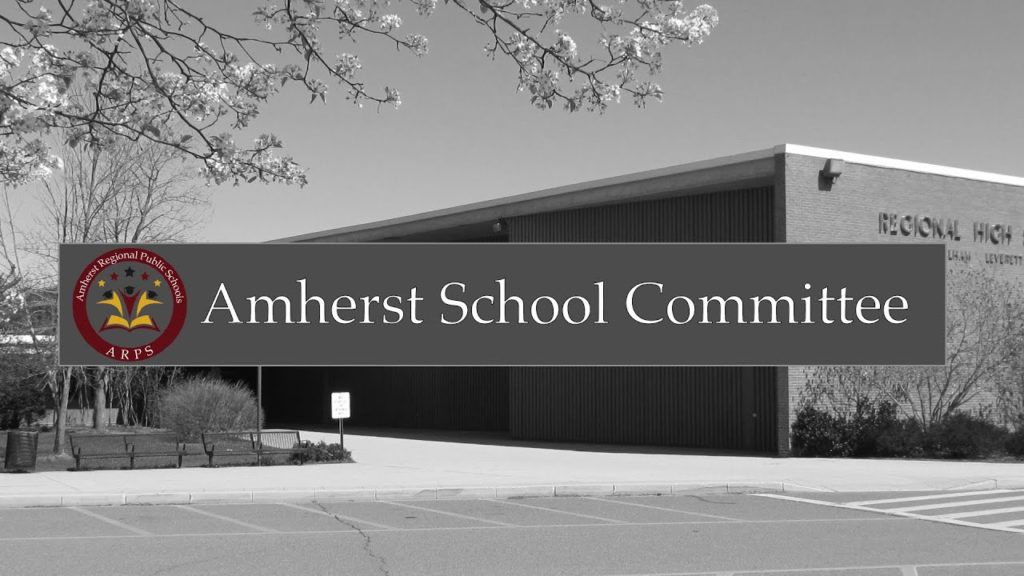 School Committees Slated to Vote Wednesday On Spring In-Person Learning
The Amherst, Pelham, and Amherst-Pelham Regional School Committees (RSC), are slated to vote Wednesday on a "Return to In-Person Spring 2021," amid questions about whether its existing agreement with the teachers' union is enforceable under state labor laws.
The upcoming vote will follow a several months-long dispute between district officials and the Amherst Pelham Education Association (APEA) over the continued closure of school buildings during the COVID-19 pandemic.
Next week, the Amherst, Pelham and regional school committees will discuss a decision by the Massachusetts Department of Labor Relations (DLR) in a Melrose case, RSC Chairwoman Allison McDonald said at an Amherst School Committee meeting on Tuesday.
An agreement between Melrose teachers and that city's school district, which would have closed schools when COVID-19 positivity rates rose above 2%, was deemed unenforceable on February 9, in a decision by DLR Counsel Gail Sorokoff. The decision, which asserted the school committee's right to determine the learning model used, is here. (An article from the February 15 Melrose Patch is here.)
It is unknown whether the DLR would make a similar finding if required to adjudicate an agreement between Amherst officials and the APEA, but McDonald indicated that the Melrose case sets a precedent. "In-person learning cannot be part of any collective bargaining negotiation," McDonald said, noting that the Amherst school committees' agreement with APEA expires in June.
Regional COVID-19 Case Rate Is Six Times Higher Than Agreed Limit For School Reopening
This week, state officials called on school districts to provide in-person learning at least for elementary school students in April. Education Commissioner Jeffrey Riley said he would bring a proposal to the Board of Elementary and Secondary Education in March, asking for the authority to determine when hybrid or distance instruction will no longer qualify towards state-required learning time. (See a related article here.) Riley also said the state will allow districts to reduce distancing requirements to three feet.
The move was quickly opposed by the Massachusetts Teachers Association (MTA).
"The state's plan to fully reopen most schools in the middle of the COVID-19 pandemic shows callous disregard for the health and safety of school employees, students and families and rides roughshod over the rights and interests of local communities," stated MTA President Merrie Najimy. The MTA criticized the Baker administration for selectively ignoring Centers for Disease Control guidance on school reopening, and said that Riley and Baker need to go "back to the drawing board."
From February 11 to February 24, a period which included a weeklong public school break, there were 582 COVID-19 cases reported statewide to the Department of Elementary and Secondary education, including 373 among students and 209 staff. The case numbers for the two weeks were lower than the 674 counted in seven days ending February 11. State contact tracing identified 13 new COVID-19 clusters in Massachusetts' K-12 schools between January 24 and February 20. (A related article is here.) Meanwhile, a new Centers for Disease Control report found that teacher-to-student transmission likely plays a role in COVID-19 school outbreaks. (An article is here.)
The agreement signed in September by the Amherst school committees and the APEA set a regional limit of 28 COVID-19 cases per 100,000 people over seven days, a limit which was quickly exceeded. Cases have stayed far above the set threshold for months, and were at 336 per 100,000 people on February 10, according to the ARPS  website. A link posted to Facebook by the APEA shows that case levels declined to 184.5 per 100,000 as of February 25, more than six times the agreed limit.
The APEA has cited community health and safety concerns over the prospect of schools reopening. The MTA is urging Baker to work with teachers' unions on a coordinated rollout of the COVID-19 vaccine.
The APEA has refused the school committee's requests to renegotiate the COVID-19 case limit, although it has negotiated via "side letters" involving the voluntary return of some teachers, including those of preschool and special needs students. However, only about a fifth of all ARPS teachers who responded to a district survey agreed to return in person voluntarily. Although a small number of classrooms are expected to open at both Crocker Farm and Wildwood elementary schools, there is insufficient staff to warrant general reopening of the other buildings, including the Fort River and Pelham elementary schools, Amherst Regional Middle School, and the High School.
"Fabulous News For the Lucky Few"
As of March 1, there will be two classrooms each of preschool, kindergarten and first grade at Crocker Farm, Superintendent Michael Morris said Tuesday, adding that another "intermediate grade" classroom may be added on March 15. Some Fort River students in special education programs will be served at Crocker Farm.
At Wildwood, some classes are expected to open on March 25, Morris said at Tuesday's meeting. He said the classes were not part of the attempted "Phase 1" reopening in October, which included preschool children, English language learners, and those with special needs. However, no additional details were provided.
In public comments submitted to the ASC, Nick Speyer, a Fort River parent, expressed dissatisfaction with the partial return. "This is fabulous news for the lucky few that get to go back, but it is a terrible outcome," he said. Speyer said that now that there is a legal precedent, the school committee should toss the Memorandum of Agreement and put a plan in place for bringing back all willing students.
At Tuesday's meeting, Morris said a new elementary enrollment report shows that 48 children in the Amherst and Pelham schools are being homeschooled this school year, compared to 16 the year before. Similarly, 89 now attend private schools, up from 60 in the prior year. Many of those enrolled in private schools are kindergarteners, Morris said.
Sorokoff, the labor department counsel, dismissed the Melrose Education Association's charge that the Melrose Public Schools violated a Memorandum of Agreement by returning to in-person learning. She wrote that certain managerial decisions "cannot be delegated by public employers, or made the subject of collective bargaining."
The labor department administers and enforces the state's collective bargaining laws.
An agenda for Tuesday's RSC meeting is here, and an agenda for Wednesday's meeting is here.