Finance Committee Considers Dedicated Fund For Reparations In Amherst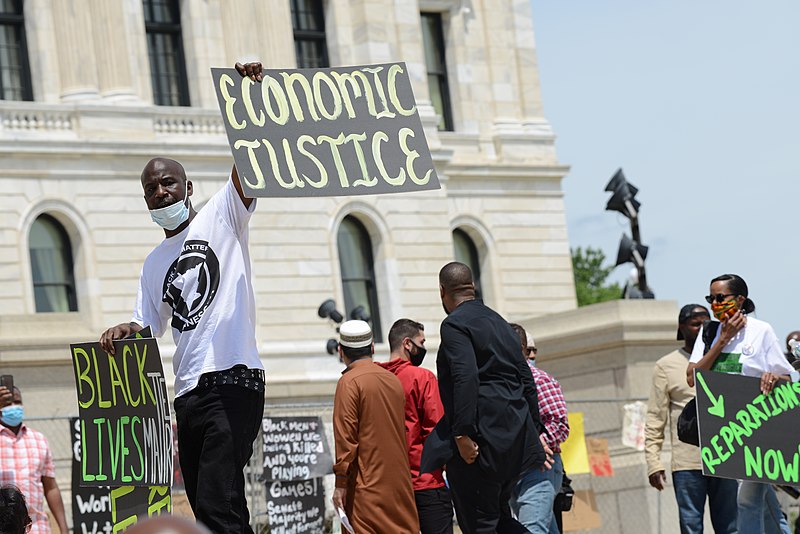 The Finance Committee (FINCOM), at their meeting on May 27, agreed to move forward with a plan to fund a revenue stream for reparations for Black Amherst residents. FINCOM took up the matter because of a motion at the Town Council meeting of May 17 that referred the question of developing a revenue stream for reparations for the FY 22 budget to the Finance Committee.
The meeting was held on Zoom. The entire meeting can be viewed here.


The full agenda of the meeting can be viewed here.

In a related issue, FINCOM held a public hearing the same evening on the final report of the Community Safety Working Group on alternatives to policing in Amherst. An Indy report on that hearing can be read here ADD LINK. A recording of that hearing will be posted eventually here.

For previous reporting on reparations look here, here, and here.
The discussion on funding reparations began about two hours into the three hour meeting with a statement from Michele Miller, co-founder of Reparations For Amherst (R4A). Miller reported that a joint meeting of the African Heritage Reparations Coalition (AHRC) and R4A unanimously recommended allocating 100 per cent of the Town's FY22 cannabis revenues to an Amherst Reparations Fund. Miller noted the staggering racial bias in marijuana prosecutions and that Black people were four times as likely to be arrested for marijuana possession.  She pointed out the that Cannabis Control Commission recommends that a portion of cannabis tax revenues be allocated to a variety of equity issues and reparative justice initiatives.
Matthew Andrews, a co-founder of R4A, reminded FINCOM that cannabis is not the only possible revenue stream for reparations. He said that other municipalities have used cannabis for equity purposes and that the important thing is to make visible a substantive commitment to reparations.  Andrews said those seeking a reparations fund understand that this is not a simple matter with the budget nearly complete. "This is a matter of 'will we be responsible to what is going on around the country right now?'," he said. "We have seen that the Town is working on a number of equity issues and we have also heard that there is a widespread lack of trust toward the Town within the BIPOC community and this speaks to a great need to begin a reparative process."
Andrews said that tax revenues from cannabis for FY22 would amount to roughly $190,000, from a 3% tax on sales collected by the state and then distributed to the town.
FINCOM Chair Andy Steinberg noted that the cannabis tax revenue has already been earmarked in the FY22 budget as revenue so if it were to be allocated to reparations, cuts would have to be made in already-planned expenditures.
Finance Director Sean Mangano pointed out that the projected $190,000 in revenue was a conservative estimate and that actual revenues might be higher as more dispensaries open.

He also noted that there will be cannabis impact money which comes directly to the town from the dispensaries. These funds have not yet been incorporated into the budget and might amount to as much as $200,000, although there are far greater restrictions on what the Town can do with those funds. The current plan is to put that money into the "free cash" account until the Town figures out how they want to spend it. Mangano said that some communities are trying to broaden the range of things that can be supported with this money but that hasn't been resolved yet. The money is supposed to be used to offset impacts of having dispensaries in the community, e.g., drug education in schools, mental health programs, or infrastructure needs related to dispensaries.
Steinberg told the committee that Amherst is quite different from Evantston (the first city in the country to pay reparations). https://www.npr.org/2021/03/23/980277688/in-likely-first-chicago-suburb-of-evanston-approves-reparations-for-black-reside
Irv Rhodes, a member of the AHRC responded, "We are not any other town. We are Amherst. The income streams are there and we need to decide what we want to do."
Council President Lynn Griesemer then suggested that the town create a stabilization fund dedicated to reparations–essentially a separate "bucket" in the annual budget into which the Council could put funds, whether from cannabis tax revenue or other sources such as un-used funds from budget line items.
Sonia Aldrich, Town Comptroller said the Council would need to vote to create that stabilization fund and then vote to allocate money to it and each of those actions would require a 2/3 vote.
Griesemer said that it is really important that the Town make a statement now by creating the stabilization fund, and she cautioned against "tying our hands on what we can and can't do" by relying on money that comes with significant constraints (like cannabis impact money).
Andrews said "the fact that this conversation is happening with such sincerity and commitment to move forward is both historic and heartening. This speaks to opportunity theft – (that is the opportunities that have been stolen from the descendants of slavery and victims of racism) and that there is something appropriate about using town's unspent funds to begin to repair the damage that needs to be fixed. The repair necessary is of course massive but this is an encouraging start."
Councilor Cathy Schoen (District 1 and FINCOM) and Bernie Kubiak (FINCOM non-voting) recommended not using the impact fees because that would tie the Town's hands and those funds are not permanent.
Councilor Alisa Brewer (at large), who was the point person for the Select Board on developing the marijuana policy stated that "the impact fees are off the table – they cannot be used the way you want to use them." Hence the only money available is what comes from the cannabis excise tax. We need to be careful about managing people's expectations."
Public Comment
Clare Bertrand, the only speaker during public comment, encouraged the Town to be bold and to fund reparations. Bertrand serves on for board of A Better Chance (ABC), a local organization helping prepare BIPOC students for higher education. "Fifty years ago, ABC may have been a leap of faith for Amherst and we are in a similar place now," she said. "Let's make that commitment."
The discussion on the proposed stabilization fund will resume on June 1. A motion asking the Town Council to create the reparations fund and identify a revenue stream to support it will be crafted for that meeting.
Hurdles
In the FINCOM discussions members noted that creation of a dedicated fund is just the first step. A number of other hurdles to the creation of a fully-functioning reparations process will have to be overcome, including:
A formal proposal for the creation of a stabilization fund for reparations must be crafted
A decision must be made as to which body will recommend the form that reparations will take – that is, how the money will be spent. Reparations advocates have proposed that this be the AHRC.
The AHRC (or designated overseeing committee) must be formally constituted.
The overseeing committee must draft proposals for reparations expenditures.
The Committee must get those proposed appropriations approved by Town Council