Town Manager And Community Safety Working Group At Odds Over Next Steps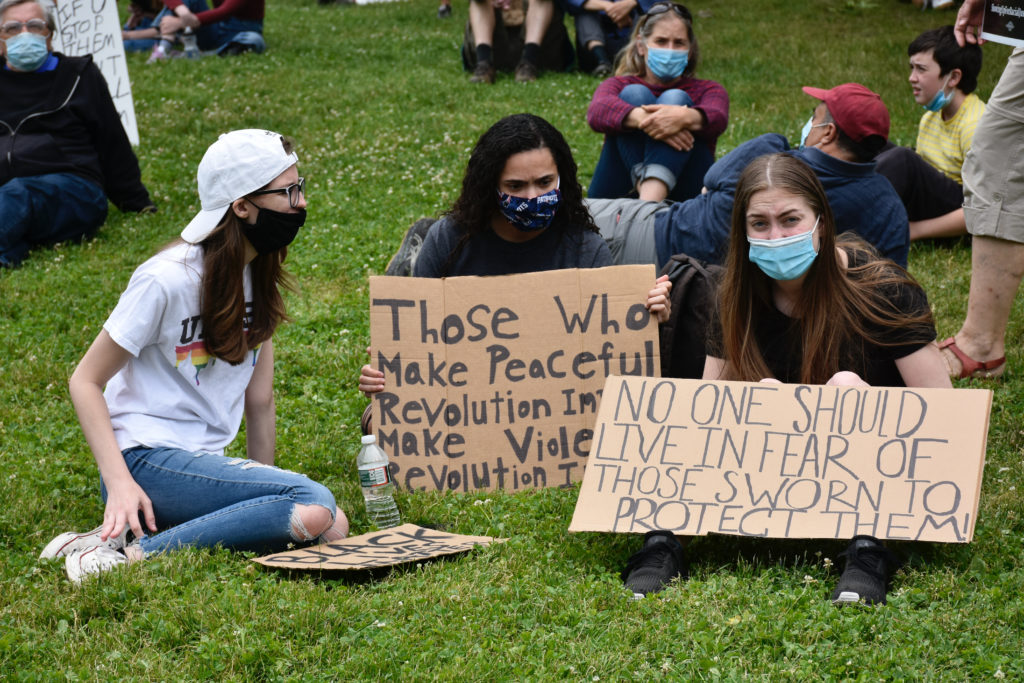 Members of the Community Safety Working Group (CSWG) continued to express their displeasure with the Town Manager and Town Council over the failure of the Town government to fully fund the committee's recommendations for a comprehensive alternative approach to public safety in Amherst and for the Town Manager's unwillingness to continue the work of the CSWG, after its charge expires on September 1.
At the meeting of the CSWG on June 10 (video link) members of the committee expressed their dismay, anger, frustration, and hurt at the response of the Town Manager, Town Council, and Finance Committee to their work, repeatedly telling Town Manager Paul Bockelman, "you are not hearing us". The session reprised concerns voiced at the CSWG meeting of May 5. Bockelman in turn insisted that he was hearing the committee members and emphasized the work that is now underway to implement some of the committee's recommendations.
Initially, the Town offered to fund an alternative Community Responder for Equity, Safety, and Service program (CRESS), a civilian, unarmed alternative to the Amherst Police Department (APD), providing community safety services in non-violent and non-criminal situations. Bockelman proposed first year startup funding of $130,000 of the $2.4 million needed to fully operate the program. After considerable push-back from the CSWG and from the public, the offer has grown over the last few weeks to $475,000. That amount includes a $90,000 grant obtained by State Senator Jo Comerford and $250,000 in American Rescue Plan Funds. (see also here and here).
Implementation of CRESS has begun with several town staff involved including the Fire Chief, Police Chief, and Director of Senior Services, and Bockelman has repeatedly emphasized his staff's enthusiasm for the project. Senior Center Director Mary Beth Ogulewicz appears to have undertaken coordination of much of this work and Bockelman has invited the co-chairs of CSWG, Brianna Owen and Ellisha Walker to work with Town Hall staff in this implementation phase.  Bockelman has also committed to funding a position for a Director of Diversity, Equity and Inclusion with an allocation of $90,000 for FY22. Funding for that position arose when Bockelman decided  to not fill the open position of Economic Development Director.  In addition, Bockelman indicated that he hoped to begin work on a Citizen's Oversight Board by September.
Remaining unaddressed were the following CSWG recommendations. (read the full recommendations here).
Full funding for CRESS
Full funding of a Citizen's Oversight Board (including stipends for board members) to handle complaints about police
Reduction of the number of police by half over the next five years.
Including funding in the FY22 budget initiatives to create a safer and more inclusive community, including:

a. Continue the ongoing work of the CSWG
b. Establish a youth empowerment center
c. Create an Amherst cultural/multi-cultural center
Also unaddressed for the moment was the CSWG's emphasis that these programs were needed to redress persistent harm to the BIPOC community and that they needed to be under BIPOC leadership. This led several members of the committee to raise concerns that the project appears to have been largely turned over to White people, that there is no explicit discussion happening about if or how BIPOC leadership will be fostered in these programs, that those BIPOC people who have done the work are not being consulted now that the projects are being turned over to staff, and that there appears to be little interest in exploring the impacts of excluding the missing pieces of the recommendations. Also concerning is that while the work of the CSWG arose in response to longstanding, documented tensions between the APD and the BIPOC community – that context seems to have disappeared from ongoing conversations. And while CSWG has proposed alternatives to policing to be funded by redirection of funds from the police budget to alternative community services, the APD budget has in fact been increased for FY22 and Bockelman has been directed by the Town Council to find funds for CRESS but to not take them from the APD budget.

Disbanding The CSWG
The ongoing work of the CSWG was a major point of contention. Committee member Pat Ononibaku observed that the committee had not yet completed its charge and that it would be nearly impossible to do so by August when their final report, offering recommendations for resident oversight and for policy reforms for the APD is due. She asked for an extension to complete that work and to extend the work of the committee into the future. Co-chair Brianna Owen pointed out that the continuation of the group could resolve a lot of issues that people are still asking about. Co-chair Ellisha Walker noted that there is going to be a lot of transition this year in public safety and that " it seems a shame to dismantle the group that has already covered so much ground in this area". Other members were perplexed and frustrated at not receiving a clear explanation for why their work could not continue when they had not yet completed their work and after they had shown the need for an official town body to do the work that they are doing. Committee member Debora Ferreira asked " What's the point of our making all of these recommendations if you are just going to pick and choose from among them?" Other committee members had complained previously that CSWG had not been offered any explanation for how these decisions are being made. Committee member Russ Vernon-Jones asked Bockelman, "Given the unique roles in town played by the CSWG, and given that we can't possibly complete our charge by August, why are you so committed to dissolving this group?"
Bockelman emphasized that the work of the CSWG was coming to an end, that much of the work is now going to be taken up by town staff, and that there may or may not be a subsequent committee to take on the work that the CSWG started. He said that he now wants to shift the focus to implementation. He said, "We spend a lot of time studying things and that's important but it's time to shift to implementation. What can we put in place that can really make a difference? There is a lot of stuff to be done. The things that CSWG has called attention to are important. CRESS and the oversight board are going to have the greatest impact right now. We are looking for the greatest impact and getting stuff up and running in a short period of time – that is CRESS, the DEI director, Citizens' Oversight Board". Bockelman said that the Town is committed to having a CRESS program and now "we have all of these details to work out and there are lots of people within the Town that need to be brought into this so we can work on the details". He told the CSWG that this will take time and that it was important that they stay involved.
But he was firm in his assertion that CSWG was an ad hoc committee that must disband when its term ends. He said it remains to be seen whether the Town Council will want to continue with some of the CSWG's work by creating a standing committee. Rather than grant them an extension – he asked the committee to do the best they could with the deadline that they have.
Ferreira noted that the CSWG is a strong BIPOC group and wondered why the Town Manager and the Town Council would want to exclude BIPOC voices when their exclusion was clearly at the root of the problem they were asked to address. Committee member Tashina Bowman, noted the prevailing mistrust between BIPOC people and town government and between BIPOC people and the police and suggested that BIPOC people would be more likely to trust the Town Manager if he were to continue the committee intact or transition it into a standing committee.
Concern Over Absence Of BIPOC People In Ongoing Work
CSWG and their consultants 7 Generations Movement Collective, documented deeply embedded problems with the way the APD engages with communities of color. CSWG expressed alarm that they were being pushed aside and that the new people coming on board were not emphasizing the context that produced CSWG's recommendations.
Bowman said, "Here's how it looks to me.  You have BIPOC people telling you what they need and non-BIPOC people telling us what we will get." Noting that the story of BIPOC people being clear about their needs, only to be told by White people what they really need, is painfully  familiar Bowman said  "We have been very clear and very precise about what we need and now I'm listening to a whole bunch of White people picking and choosing based on what is comfortable for them." She asked why Mary Beth Ogulewicz now has a prominent position in putting the implementation together and was responsible for fielding questions about CRESS at the last Town Council meeting while CSWG and the consultants, who have been working on this for a long time, have yet to meet with her and were not asked for their input at the last Council meeting? 
Bowman continued: ""There was a lot of discussion of our program at both Town Council and Finance Committee meetings, and we were not there to field questions. There were discussions of possibly out-sourcing our program, and the comparability of our program with those from other towns. There was framing the work of CRESS as social service and not as community safety. And it seems like there was a clear feeling that funding for CRESS shouldn't come out of the police budget."

CSWG members expressed frustration that they had been removed from the ongoing discussions and that there do not seem to be any BIPOC people at the center of the planning. Several members emphasized that the committee's vision has always been that there would be BIPOC leadership for these alternative programs. Councilor Sarah Swartz was the only one to point out at last Monday's Town Council meeting that their discussion was moving the focus away from an emphasis on BIPOC people.
Bowman said that most of the people who are staffing the agencies that were discussed on Monday are not BIPOC – so this becomes " just a continuation of White people telling us what to do and telling us what we need. We won't call the police now. Why would I call some agency that's full of White people." she said.
Underscoring the need to have BIPOC people at the center of the conversation and repeating a point that had been made at several other CSWG meetings, Bowman said "you don't know what it's like for us. You have no clue of what it's like to not have a service that you can contact."
Recommendations Unaddressed
Ononibaku asked why the Town is not funding the two recommended centers – one serving BIPOC youth and one supporting diverse communities. "We said we need this, and the Town Council and Finance Committee just ignore that," she said.
Bockleman responded: " I see what you are saying. Let's look at it this way. That these are new concepts that were not on the table and now they are on the table. And maybe with the new DEI director these ideas will have a champion who can advocate for funds and space".
Next Steps
Following Bockelman's departure from the meeting, CSWG members agreed to continue to seek an extension of their charge beyond the September 1 deadline as well as the continuation of their work as a standing committee. And they agreed to meet weekly throughout the summer in order to complete their work. Committee members pledged to continue to reach out to individual Town Council members to get the help needed to complete their charge. CSWG is scheduled to present their final report to the Town Council on August 23.