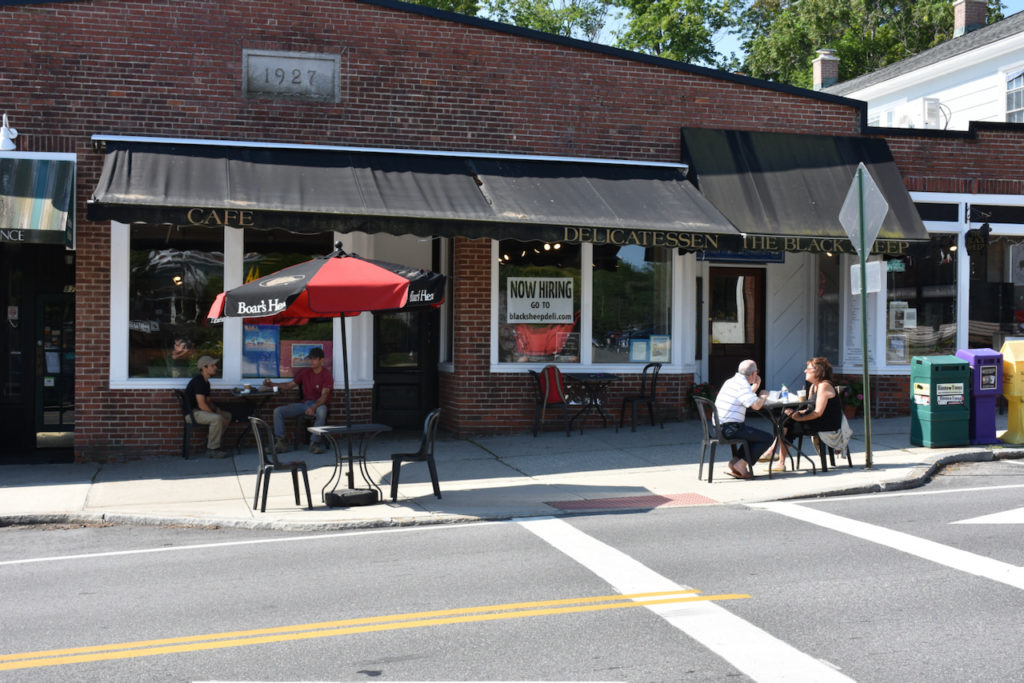 The Black Sheep Deli, 79 Main Street, Amherst, will welcome the public back with a grand reopening celebration on Saturday, July 24. The deli reopened on July 21 with an expanded array of offerings, a new head chef ,and some new equipment, after closing for a second time on December 27, 2020 in response to the pandemic.
The grand reopening will include music by the Gypsy Wranglers, who will be playing on the sidewalk in front of the deli from 11 a.m. to 1 p.m. and every Sunday morning thereafter. There will be some food specials and an opportunity to try the expanded menu. Owner Nick Seamon said, "We just want folks to come down for good food and good music and to welcome us back to the community."
Seamon said that the first three days of being open had gone well, with most of his kitchen staff back and with the launch of a new line of products. The Deli is currently open 8 a.m. to 3 p.m. Wednesday through Sunday and Seamon plans to expand hours as he takes on more staff, with the aim of being open seven days a week by Labor Day.
What's New At The Black Sheep?
The newly opened store features a new line of groceries in a section they are calling Main Street Market and includes meats (from Arnold's Meats in Chicopee), produce, dairy, smoked fish from New York City, and a selection of ready-to-eat entrees, sides, and deserts as well as a selection of home-canned and pickled products from the Black Sheep Farm in Leverett. The Deli continues to offer sit-in and take out dining from the familiar Black Sheep Deli menu. Seamon has expanded bread baking with the return of his long-time bread baker and the installation of a new deck oven.
Seamon noted that the grocery selection is limited but is hopefully helpful with a little bit of staples and a little bit of deli. "We're not trying to compete with Stop and Shop, now that folks are going back to supermarkets. But there's really nothing available (in the way of groceries) downtown right now and this will be a chance for people to conveniently pick up some of the things that they need in a non-crowded venue", he said. He added. "We are working hard to make sure that not only does The Black Sheep survive this turbulent time, but that we also serve our customers with the best local food possible".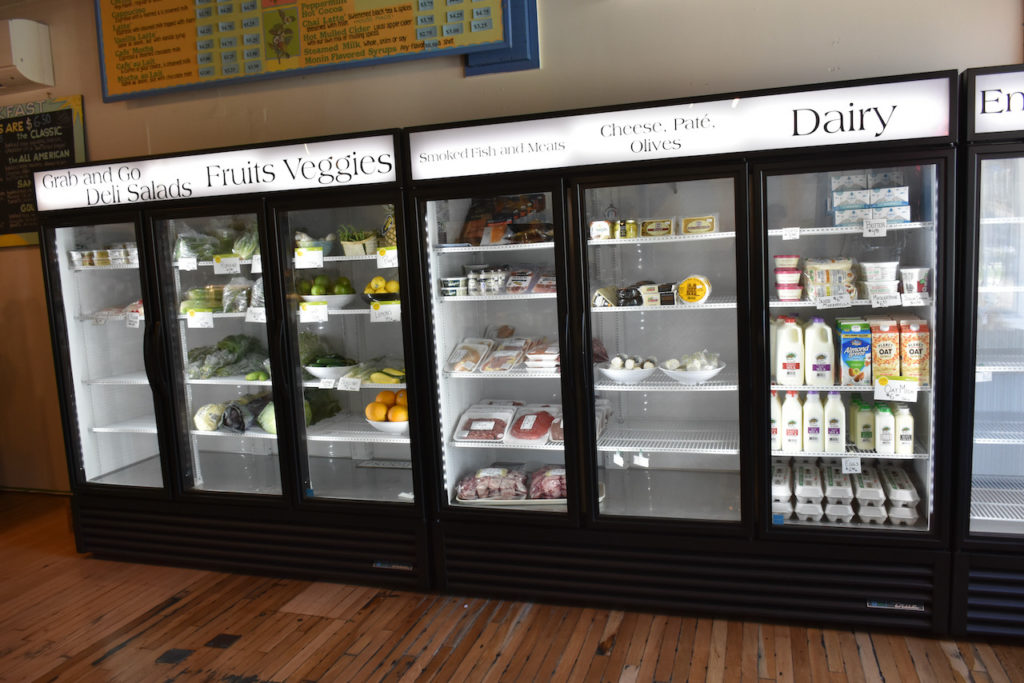 New Chef
The new head chef at the Black Sheep is Rob Watson, former owner and chef at the neighboring Lone Wolf, which he ran for 17 years before closing in June. Watson worked as head chef at the Black Sheep in the early 2000s and then at a number of well-known Valley restaurants before opening the Lone Wolf, including Nick's (Seamon's former breakfast place, neighboring the Black Sheep), Plumbleys, and the Blue Heron. Seamon approached Watson after he closed his restaurant, noting that they had the same sensibilities concerning food and a long-established record of collaboration.

Watson also plans occasional pop-up breakfasts on weekends that will offer a very limited selection from his menu at the Lone Wolf, things like omelettes, and pancakes.  People will be able to come in and grab breakfast and hear the Gypsy Wranglers. 
Challenges Of The Pandemic
Seamon noted that the pandemic had been especially hard on area restaurants, that many did not survive, and that the Black Sheep was fortunate to receive sufficient support to keep themselves alive, though there is still a substantial hole to climb out of. And without grants from the federal Paycheck Protection Program and from the Massachusetts Food Security Infrastructure Program, they might not have made it either. The latter enabled them to install a new deck oven (replacing the original oven, that had been in use since the deli opened in 1986) and new display coolers, and to purchase a refrigerated delivery van to support the catering business.
What's Next?
Happily there's a big demand for catering and delivery, as people have put off events because of the pandemic. Seamon hopes that there will no longer be restrictions for deliveries to the college and university campuses, as that has been an important part of the Black Sheep's business. He said that right now, they are trying to figure out what the public wants, and adjust to demand.
He also hopes to resume the Black Sheep's Political Climate Change Dinners before the end of the year. Beginning in 2018, the Black Sheep hosted free dinners on the first of each month with a progressive guest speaker, providing a venue for residents to get together for serious discussions about politics, democracy and the challenges of the Trump administration. He said that he hopes to invite Representative Jim McGovern, State Senator Jo Commerford, and constitutional attorney John Bonifaz to be among the speakers when the series resumes.
For more information on the Black Sheep look here.