One-Way Traffic Mulled For Part Of North Pleasant Street; Performance Shell On Town Common Endorsed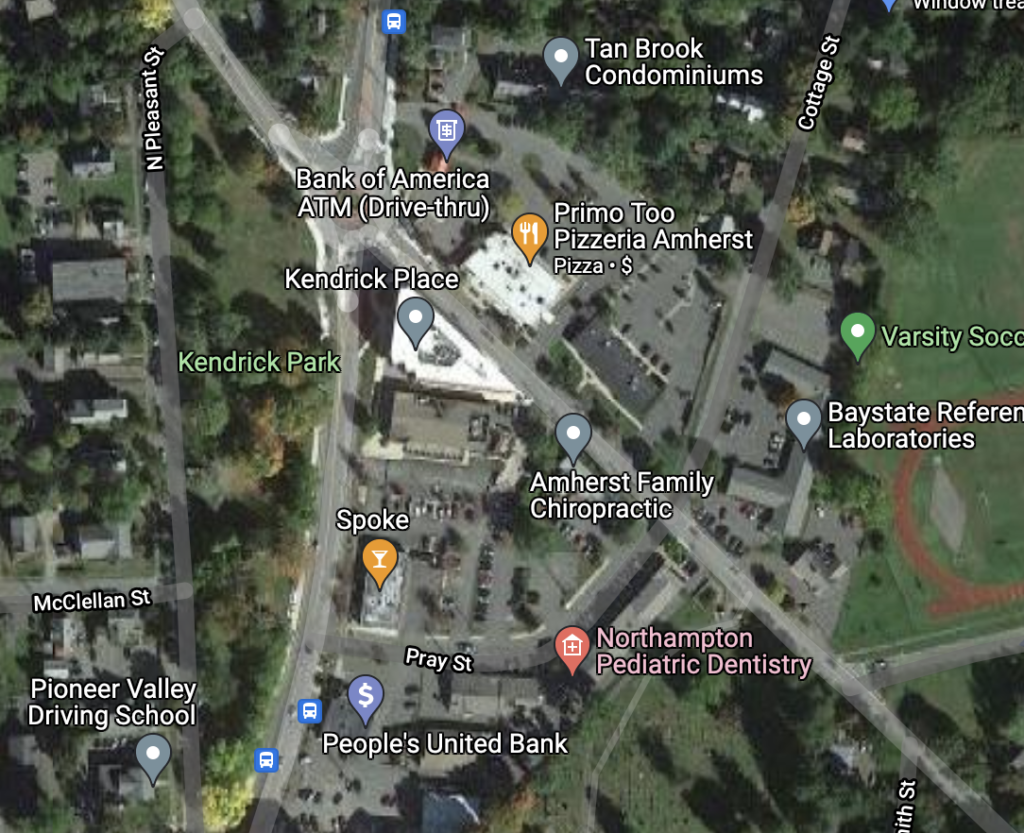 Report On The Meeting Of the Town Services And Outreach Committee, December 2, 2021

The meeting was held on Zoom and was recorded. The meeting was called to order at 5:30 p.m.
Highlights
Public Hearing on Kendrick Park found the committee favorable to converting a portion of North Pleasant Street adjacent to Kendrick Park to one-way traffic and to creating a counter-flow bike lane
Unanimous approval of proposed performance shell on the Town Common
Endorsement of Town Manager's nomination of Nicola Usher to the Resident Advisory Committee
Discussion of possible revisions to the town's public ways policy
Present
Councilors Evan Ross (Chair, District 4), George Ryan (District 3), Andrew Steinberg (at-large), Alisa Brewer (at-large), Darcy DuMont. (DuMont left the meeting at 6:23 p.m.)
Staff: Paul Bockelman, Bryanna Sunryd (Communications Manager), Guilford Mooring (Superintendent of Public Works)

Public Hearing on Parking Near Kendrick Park
The hearing was also a forum for testing out a new online participation tool developed by the Initiative For Digital Public Infrastructure at UMass. Communications manager Brianna Sunryd introduced the tool, Community Click, and explained how those watching the Zoom hearing could offer commentary in real time. She noted that this was simply a test of the system and that the feedback offered will be used by the developer but not by the committee.
The committee considered the following questions concerning the reconfiguration of North Pleasant street adjacent to Kendrick Park. (See also map below)
1. Roadway
Should North Pleasant Street be one way from McClellan to Triangle Street to allow for more parking? If so, should it be northbound? Should safety features be added such as a raised crosswalk or fewer spaces, allowing for better sight lines?
2.Parking
Should 25 on-street parallel parking spaces be added to maximize parking, as pictured? If so, should the permit parking currently provided on North Pleasant be moved to the east side of Kendrick Park? Should the grass belt on the western side of North Pleasant Street from Triangle Street to Hallock Street be removed, which would allow for more parking spaces including 7 new parallel spaces on the western side of North Pleasant Street from Hallock Street to McClellan Street? There are currently no street trees in the grass belt. Should the diagonal parking pictured stay and if so, as front-in or back-in?
3.Sidewalk
Should the park's western sidewalk in the currently paved area be retained, thus avoiding the removal or significant root damage to about 10 trees.

Following deliberations and public comment, the committee concluded unanimously that it supported the following points in anticipation of a formal motion to be brought forth at their next meeting.

TSO supports the Town's proposal to make that section of North Pleasant Street from McClellan Street to Triangle one-way north. Parking will be limited to the west side of Kendrick Park with the addition of a handicap accessible sidewalk along the edge of the parking. Members concurred that back-in angled parking was safer because children aren't egressing from cars into the street. Also oncoming cyclists are more visible to drivers who exit parking spaces in forward gear. After the refining of the designs committee members will have a better idea of the net number of new parking spaces that might be added.

The committee further noted that the plan aims to create a sidewalk along the park if it can be done without harming the trees. Right now there are metered parking spaces and permit spaces on North Pleasant Street and with the plan there would be an addition of both. New spaces could be used for neighborhood residential parking in the evening.

A major concern of those present was how to keep these spaces for park visitors given the need for resident parking in the newer down rental units, for town employee parking, and for employees who work after 8 p.m. in downtown businesses. While regulating these new spaces can come later, Steinberg noted that making North Prospect Street one-way north, Hallock Street one way east, and perhaps widening Cowls Lane could increase the usage of the Town/CVS lot by making it more "visible" to out of town visitors. While the many parking studies over many years have determined that Amherst has enough parking, out-of-towners, on whom our downtown economy depends, have difficulty finding it. (Over the years Town Meeting has appropriated funds for parking signage as a result of these studies.)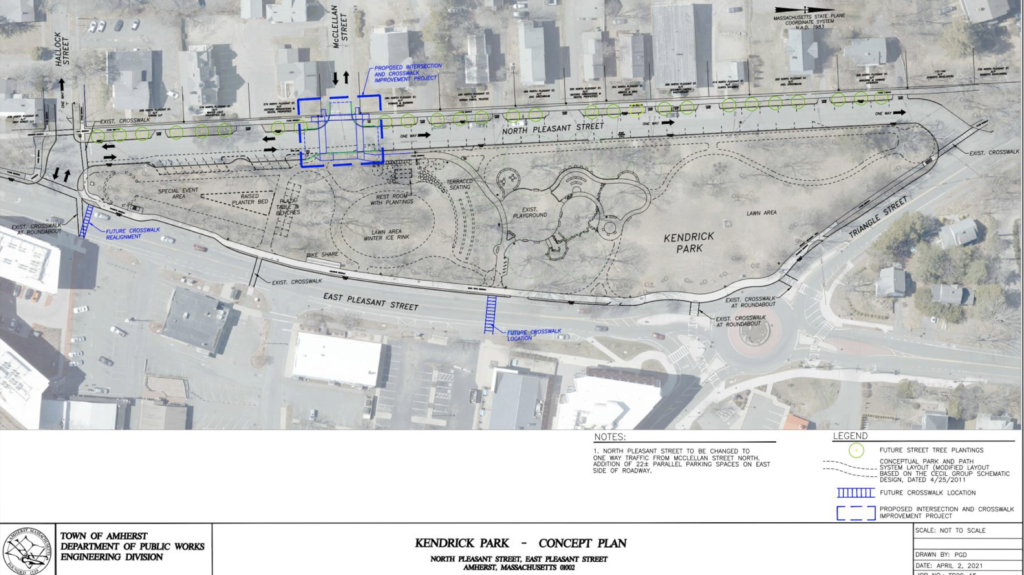 Discussion/Public Comment 
Rob Kusner asked that the plan carefully consider pedestrians and cyclists and said he noted some of the challenges posed to southbound cyclists in a memo sent to the committee. He noted the high volume of traffic on this segment of street and the safety challenges posed by multi-use paths in high traffic volume areas. He said that this danger is already evident at UMass. (see his further elaboration in a letter in this issue of the Indy).
Eve Vogel, a former member of the TAC, said the plan is great for pedestrians, less so for bicyclists. She said she has looked into counterflow bike lanes and found them generally to be dangerous. She suggested that the ideal plan would be to have a sidewalk wide enough for a separated bike lane at sidewalk level, creating space off the street for pedestrians and cyclists.
Hilda Greenbaum and Jennifer Page raised concerns over back-in parking. Page noted that backing in is difficult to do safely without a backup camera, which is a problem for folks not driving newer cars.

Brewer strongly advised the Town to re-examine the downtown parking permit system: who qualifies for a permit, how much it should cost, is $25/year too little given that UMass lots are full and cost considerably more, should town employees be given free parking
No one spoke during public comment or during the committee discussion in opposition to the proposed changes.
TAC's recommendations can be read here.
Performance Shell On The Common
The committee heard a brief presentation on the proposed performance shell from Gabrielle Gould representing the Downtown Amherst Foundation. That presentation can be viewed here. She pointed out that the modified plan for parking and walkways addresses concerns raised by the Disability Access Advisory Committee (DACC). There will now be handicapped parking spots adjacent to the stage that will give direct access to the performance shell.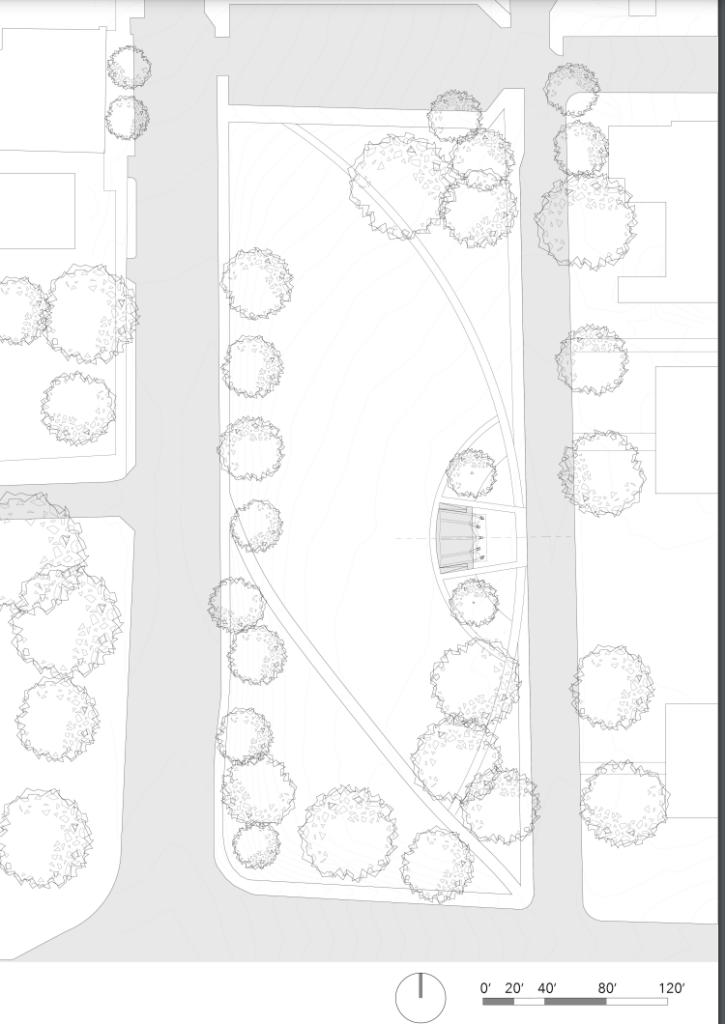 This project has been fast-tracked as part of the Destination Amherst project to bring visitors from out of town to our 53 restaurants and arts and entertainment venues. A memorandum of understanding needs to be developed as to which party pays what expenses for concluding the project. Gould wants to be sure that lunch carts and food trucks not compete with our local restaurants, particularly when the shell is in use. Also the management and reservation of the performance shell will come under the purview of the Town Manager.
Alisa Brewer asked how the existence of the performance shell might change traffic patterns.
Evan Ross noted that previous reports from the DAAC, the Design Review Board, and the Historical Commission enthusiastically and unanimously endorsed the performance shell. (Note, however, the endorsement by the historical commission was less than enthusiastic.)

Bockelman and Ryan suggested that the Downtown Amherst Foundation would reasonably expect to have some kind of priority for using the performance shell, and there were no objections to that suggestion.

A motion for TSO to endorse the construction of the performance shell was adopted unanimously (4-0 with DuMont absent).

Appointment To Residents Advisory Committee
The committee voted unanimously to endorse the Town Manager's nomination of Nicola Usher to a one-year term on the Residents' Advisory Committee (RAC). This committee assists the Town Manager with evaluation and selection of candidates for appointment to multiple-member boards and committees.

Town Manager Paul Bockelman provided the following biographical profile for Usher.

Nicola Usher is knowledgeable about town governance, having shown interest in serving the public, and the town charter and its goals. She has expressed her commitment to supporting the work of boards and committees and to make the work accessible to people with jobs and families. She identifies as a good listener and a collaborative worker. Her career started in sales and marketing in the hospitality industry. Subsequently, she has successfully transitioned to higher education, where she works in the academic affairs office of the University of Massachusetts at Amherst. Her focus in all of her work has been on supporting diverse populations in fast-paced settings. She is the Vice President and Chair of Governance for the Amherst Survival Center Board of Directors.
Brewer noted that the RAC has had the same three members since the Town Council first took office in 2018 and commended the committee for its work and for working so well together.
Town Council Public Ways Policy
Some councilors have asked whether the Council's public way policy needs to be updated and whether there needs to be a separate policy for matters impacting the Ccommon. They also raised concerns about jurisdiction over lunch carts and about the licensing authority and the public ways authority being two separate bodies, when this had been the exclusive purview of the Select Board under the previous form of government. A draft of a revised public ways policy can be read here.
This article was prepared with the assistance of Hilda Greenbaum