Letter: Wildwood School Building Can Meet Town's Pressing Needs For More Civic Space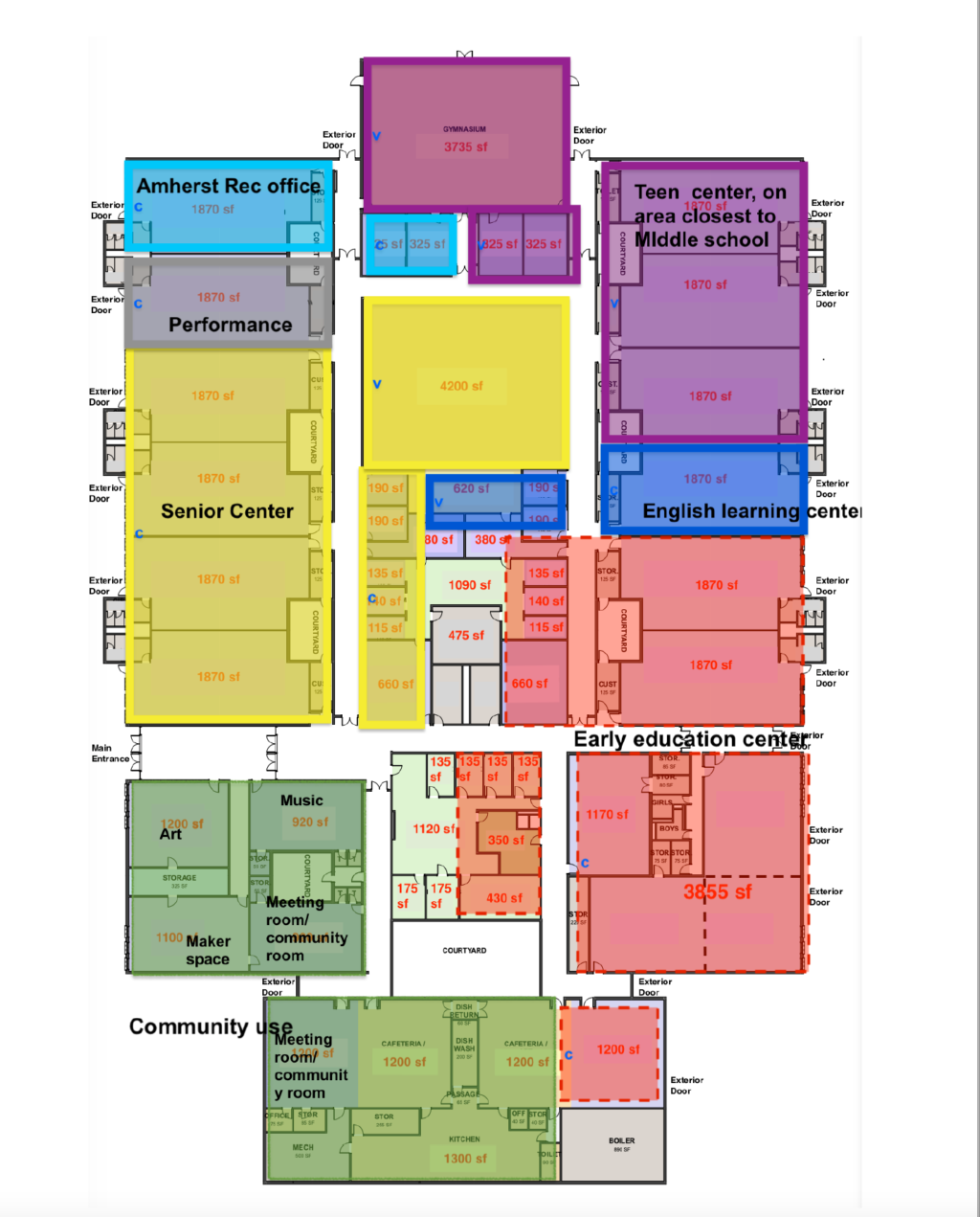 A version of this letter was sent to the Elementary School Building Committee, The Town Council and The Town Manager on May 26, 2021
Imagine what could be done with the Wildwood school building if Fort River is chosen as the location of the new combined elementary school. While I do consider Fort River to be a better site for the new school, I want to focus on what the town could do in a vacated school left at Wildwood.

Wildwood school is on a smaller lot, with hills which makes it less suitable for a larger elementary school, but its location close to downtown and to the Middle and High School makes it a great location for many services and programs for which the town needs space. Imagine the potential. With 82,000 square feet available, zones could be defined within the building for many distinct purposes. Below is a floor plan of Wildwood showing the current layout and size of the rooms, followed by just some of the many ideas for programs or centers that could potentially co-exist in the building.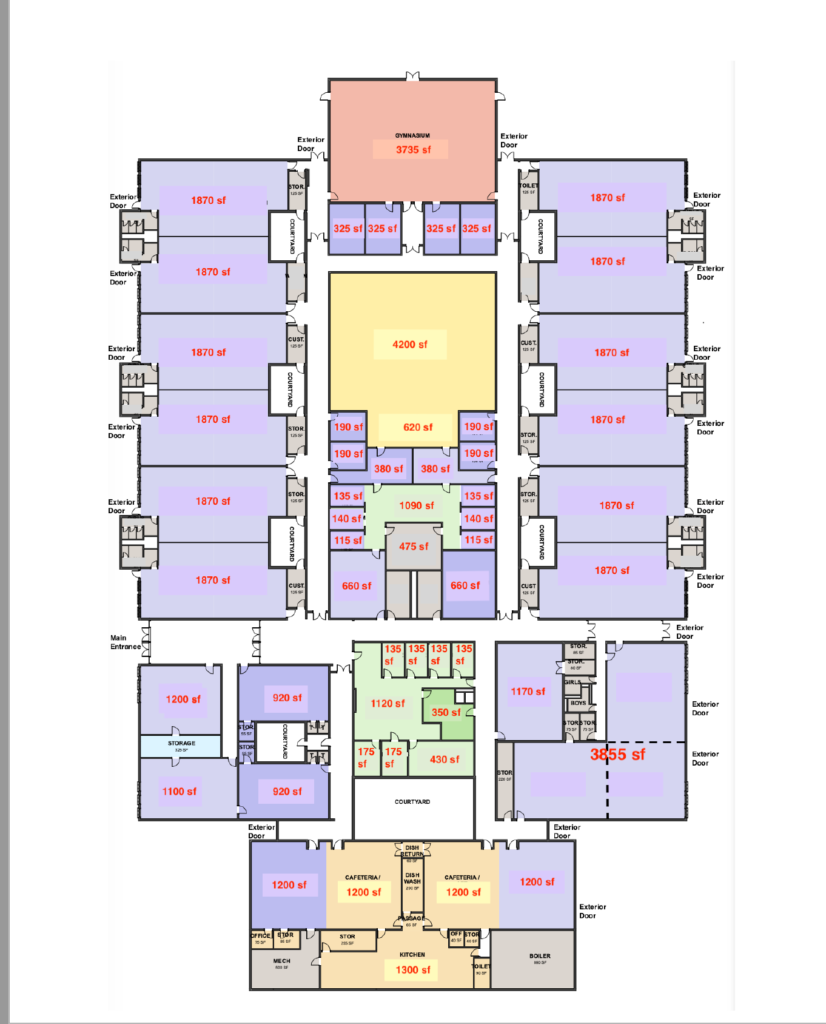 Youth Center
The proximity to the Middle and High school makes Wildwood an ideal place for a youth center,
allowing teens to easily walk up the hill for afterschool programming. A couple of the large rooms plus perhaps some smaller rooms could be allocated for youth activities. The gym and outdoor basketball courts would provide space for movement as well. The Community Safety Working Group (CSWG) has already expressed interest in siting their recommended Youth Empowerment Center at Wildwood.

Early Education Center
The current preschool only provides services part-days, part of the week and it is in competition for space with elementary students at Crocker Farm. The Town currently doesn't offer programming for 0-3 year olds, where the need is greatest according to a 2019 study commissioned jointly by the schools and the Town. At Wildwood, there are many large rooms that could be repurposed for early childhood without much if any modification, including already being equipped with appropriate-sized plumbing.
Senior Center
Wildwood has easy access from downtown, with >100 free parking spaces, ample room for
indoor activities such as exercise or dance classes, games, arts and crafts, and communal meals, as well as outdoor space perhaps for gardening or exercise. Again, many newly-renovated large rooms (~2,000sf) are available, plus the usage of community rooms already set up for art, music, and food preparation next to the front entrance and the north parking lot. The current large media room (library) could be used for many group activities, for example as an indoor movement room, performance area, or games tournaments.
Community Rooms
There are many rooms that can be shared and accessed by all the occupants of a new Wildwood Community Center and used for many different programs. You could consider having an art room, music room, makerspace, meeting spaces, including the kitchen and cafeterias for communal meals or cooking classes.
Amherst Recreation Offices
These are currently at the middle school where the Black Box Theater used to be. Moving these offices to Wildwood would free up space for programming for middle school students, a population that will expand to include ~150 Amherst sixth graders in fall 2023.
ARPS Central Administration Offices
Office space for administration is currently taking up about 5,000 sf of space at the middle school. Again, this is middle school space that could potentially be repurposed to serve the grade 6-8 students attending. There would be plentiful office space available at a new Wildwood Community Center.
Other Possible Uses
English language learning center
New immigrant center
Lunch distribution or congregate lunch center
Possible rental space for complementary businesses such as the new Performing Arts and
Education Collaborative.

The takeaway is that the Wildwood building offers much needed space for the town and I would argue it should be retained in Town ownership for community use. The new elementary school is better suited to the Fort River site where there would be sufficient space for kids to play as well as community playing fields for the benefit of all residents outside of school hours.
The thumbnail photo above is just one possibility for how to re-imagine the spaces in a new Wildwood Community Center. Let's imagine this together and make it happen for the betterment of all residents.
If you agree, please add your voice by writing to the Town Council (towncouncil@amherstma.gov) and the Elementary School Building Committee (chair: SchoenC@amherstma.gov) and ask that they put the new school at Fort River (and save the fields!) and convert Wildwood into a Community Center.

Irene Dujovne
Irene Dujovne Is a resident of Amherst