A Better World Is Possible: Revisiting Our Bodies Ourselves Fifty-four Years After Its First Publication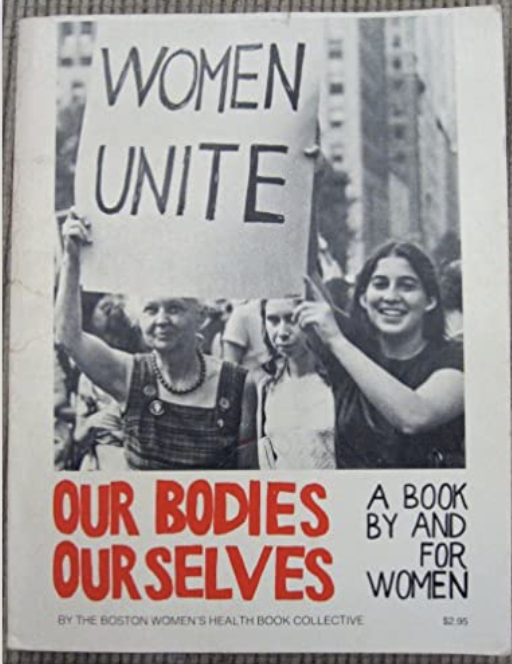 By Art and Maura Keene
Sources: The Washington Post and ourbodiesourselves.org
The headline in The Washington Post this week (8/23) read, "After Roe, teens are teaching themselves sex ed because adults won't." The article told the story of Teens for Reproductive Rights (TFRR), a youth-led organization based in Nashville, Tennessee, one of several teen-led grassroots groups across the country (see e.g. here and here) that have formed to remedy the censorship of information on a variety of topics such as sexuality, gender and racism. The Post reports that TFRR is part of a " burgeoning movement of high-schoolers nationwide who, after Roe's fall, are stepping up to demand more comprehensive lessons on reproduction, contraception and abortion — and who, if the adults refuse, are teaching each other instead."
This organizing by teens is reminiscent of an earlier historic moment when women organized to address a dearth of reliable information on sexuality and women's health. Those of us of a certain age will likely recall the time when birth control was illegal or widely unavailable, and where knowledge about sex and sexuality and about how women's bodies work was pretty inadequate. We bought our own copy of Our Bodies Ourselves during our senior year at the University of Wisconsin in 1973. The Boston Women's Health Book Collective, the book's publisher, illustrated the power of popular education and offered a template for addressing widespread misinformation and/or absence of information. At this moment in history, when extremist efforts to prevent discussion of a wide range of ideas are proliferating across the country, and notably in America's schools (see here, and here, and here, and here), it is useful to think about how an idea, conceived at a small gathering , could proliferate and have such a deep, expansive, and long-lasting impact. Here is the story of the Boston Women's Book Collective as told in their own words (from ourbodiesourselves.org).
"In May of 1969, as the women's movement was gaining momentum, a group of women in Boston met during a 'female liberation conference' at Emmanuel College. In a workshop titled "Women and Their Bodies," they shared their experiences with doctors and their frustration at how little they knew about how their bodies worked.
"The discussions were so provocative and fulfilling that they formed the Doctor's Group, the forerunner to the Boston Women's Health Book Collective, to find out more about their bodies, their lives, their sexuality and relationships, and to talk with each other about what they learned. They decided to put their knowledge into an accessible format that could be shared and would serve as a model for women to learn about themselves, communicate their findings with doctors, and challenge the medical establishment to change and improve the care that women receive.

"In 1970, they worked with the New England Free Press to publish a 193-page course book on stapled newsprint titled "Women and Their Bodies."
The book was revolutionary for its frank talk about sexuality and abortion, which was then illegal. The cost: 75 cents.
"In 1971, they changed the title to Our Bodies, Ourselves to emphasize women taking full ownership of their bodies. The book quickly became an underground success, selling 225,000 copies, mainly by word-of-mouth. The cost this time around: 30 cents.
"In 1972, after strenuous debate, the group of founding authors decided to publish with a mainstream publisher in order to reach a wider audience. They formally incorporated as the Boston Women's Health Book Collective and negotiated a contract with Simon & Schuster that included a 70 percent clinic discount for low-income women and a provision for a U.S. Spanish translation. The first commercial, expanded edition of Our Bodies, Ourselves was published in 1973. The preface and the first chapter, "Our Changing Sense of Self," are available online.
"For forty years, Our Bodies, Ourselves was updated and revised approximately every four to seven years. The most recent edition was published in 2011 and is still in print and available through Amazon.
"The book has sold millions of copies and received numerous honors. Library Journal named the 2011 edition one of the best consumer health books of the year. Also in 2011, Time magazine recognized Our Bodies, Ourselves as one of the best 100 nonfiction books (in English) since the founding of Time in 1923. In 2012, the Library of Congress included the original Our Bodies, Ourselves in the exhibit Books That Shaped America, a collection of 88 nonfiction and fiction titles "intended to spark a national conversation on books written by Americans that have influenced our lives."
"For many years, hundreds of people, including book and web content contributors, advisory board members, board members, founders, and staff and consultants collaborated to produce and promote evidence-based information on girls' and women's health and sexuality. This information, distributed through OBOS's publications, website, and blog, also addressed the social, economic and political conditions that affect health care access and quality of care. This contextual information has inspired readers to learn more about — and work to change — the attitudes, policies and laws that affect their own and their family's well-being.
"In April 2018, the board, founders and staff of Our Bodies Ourselves came to the difficult conclusion that OBOS no longer had the resources to continue paying staff to develop health information and collaborate on translations and adaptations with our global partners. Over the spring and summer of 2018, OBOS transitioned to a volunteer-led 501(c)3 and scaled back our core work to two primary activities: advocating for women's health and social justice and providing limited technical support to OBOS's global partners. Read more about the transition.
"That same year, Our Bodies Ourselves began a partnership with Suffolk University's Center for Women's Health and Human Rights to develop Our Bodies Ourselves Today, a new online platform that features updated, curated, and inclusive information about the health and sexuality of women and gender-expansive people. In 2022, the groups launched a joint website that features the best of the "old" Our Bodies Ourselves as well as extensive new health content.
"Since its inception, OBOS has had a tremendous effect on the lives, health, and human rights of women across the world. Learn more about our impact and influence."


---
Note: in a previous column we reported on how the Brooklyn Public Library has offered a free on-line library card to every teen in America and has guaranteed access to any book that has been banned in their own communities, another example of a grassroots initiative to subvert censorship. A high school teacher in Oklahoma was recently suspended for providing information about the Brooklyn program to their students.
A Better World Is Possible is a mostly weekly Indy feature that offers snapshots of creative undertakings, community experiments, innovative municipal projects, and excursions of the imagination that suggest possible interventions for the sundry challenges we face in our communities and as a species. The feature complements our regular column by Boone Shear, Becoming Human. Have you seen creative approaches to community problems or examples of things that other communities do to make life better for their residents that you think we should be talking about? Send your observations/suggestions to amherstindy@gmail.com. See previous posts here.