Candidates Certified For November Election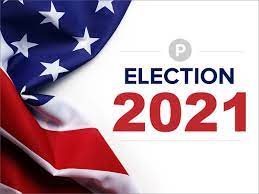 These are people (listed in alphabetical order) who have collected certified signatures on their nomination forms to appear on the ballot for the local election on November 2. 
Those marked with an asterisk (*) have enough certified signatures for two positions and must withdraw from one of those positions before the election. Lynn Griesemer withdrew her nomination for Councilor At-Large on 9/16/21.
Also on the ballot will be referendum on whether to approve spending on the $35M Jones Library building project.
Councilor At-Large (Town wide) 3 Seats Available
Vira Douangmany-Cage
Robert Greeney
Lynn Griesemer Incumbent
Mandi Jo Hanneke Incumbent
Vincent O'Connor
Andy Steinberg Incumbent
Ellisha Walker*
District 1 Councilor (Precincts 1 & 3) 2 Seats Available
Michelle Miller
Cathy Schoen Incumbent
District 2 Councilor (Precincts 2 & 6) 2 Seats Available
Maximiliano Alaghband
Pat Deangelis Incumbent
Lynn Griesemer Incumbent
District 3 Councilor (Precincts 4 & 10) 2 Seats Available
Dorothy Pam Incumbent
George Ryan Incumbent
Jennifer Taub
District 4 Councilor (Precincts 5 & 9) 2 Seats Available
Anika Lopes
Pam Rooney
Evan Ross Incumbent
District 5 Councilor (Precincts 7 & 8) 2 Seats Available
Shalini Bahl-Milne Incumbent
Ana Devlin Gauthier
Ellisha Walker*
Housing Authority (Town wide) 3 Seats Available
Michael Burkart Incumbent
Jessica Mix-Barrington
Nancy Schroeder Incumbent
David Williams Incumbent
Elector, Oliver Smith Will (Town wide) 1 Seat Available
Carol Gray Incumbent
Sarah Marshall
School Committee (Town wide) 5 Seats Available
Peter Demling Incumbent
Ben Herrington Incumbent
Heather Lord Incumbent
Allison McDonald Incumbent
Phoebe Merriam
Jennifer Page
Irvin Rhodes
Library Trustees (Town wide) 6 Seats Available
Farah Ameen
Lee Edwards Incumbent
Tamson Ely Incumbent
Alex Lefebvre Incumbent
Robert Pam Incumbent
Austin Sarat Incumbent