Trust And Communication Issues Provide Impetus For Proposed Council Retreat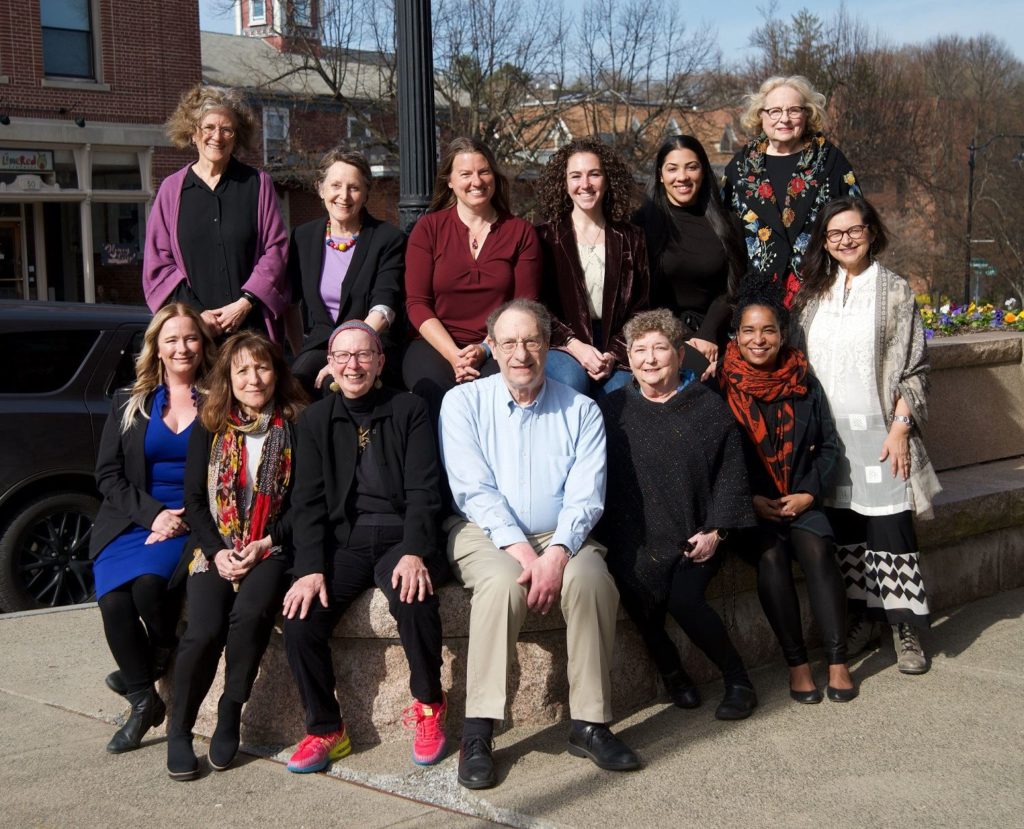 Report On The Meeting Of The Amherst Town Council, February 6, 2023
This meeting took place in a hybrid format and was recorded. It can be viewed here.
Highlights
Griesemer Defends Omission Of Information About Meeting With Legislators
Council Retreat Proposed To Address Issues Of Comity And Trust
Proposal To Extend Voting Rights To Permanent Residents For Municipal Elections Referred To GOL
Farmers' Market To Return To South Common
Process For Sweeping Zoning Amendments Questioned
Hanneke Appointed To Joint Capital Planning Committee
Community Preservation Act Awards To Be Discussed At February 21 Finance Meeting
Town Manager Report And Appointments
Present
Councilors in the Town Room: President Lynn Griesemer (District 2), Mandi Jo Hanneke and Andy Steinberg (at large), Cathy Schoen (District 1), Jennifer Taub (District 3), Pam Rooney (District 4), and Ana Devlin Gauthier and Shalini Bahl-Milne (District 5)
Participating on Zoom: Michele Miller (District 1), Pat DeAngelis (District 2), Dorothy Pam (District 3), Anika Lopes (District 4), and Ellisha Walker (at large)
Staff: Paul Bockelman (Town Manager) and Athena O'Keeffe (Clerk of the Council)
Three members of the public were present in Town Hall, and 11 people were on Zoom.
Much of this meeting involved referrals of matters to the Finance Committee. Those topics are included in the article (LINK) about the February 7 Finance Committee meeting.
Griesemer Defends Omission Of Information About Meeting With Legislators
In response to a request by Councilor Michele Miller (District 1), President Lynn Griesemer (District 2) appended an addition to her December President's Report with State Representative Mindy Domb, State Senator Jo Comerford, and Council Vice President Ana Devlin Gauthier (District 5), adding to the report, "On December 8, 2022, in our meeting with Senator Comerford and Representative Domb PFAS/Turf was one of a dozen or so items on our agenda. At that time, Senator Comerford mentioned she would be refiling her proposed bill to ban PFAS in commercial products in the upcoming legislative session." (see also previous reporting in the Indy)
The original President's Report, presented to the councilors in January, referenced 11 of 12 items on the agenda for that meeting. The only omitted item was the discussion of pending PFAS legislation. As several councilors pointed out, this is relevant because the nonbinding resolution to study the safety of the artificial turf ( see also here) planned to be used on the renovation of the high school track and its enclosed field passed on December 12 removed references to pending PFAS legislation noted in Miller's original resolution, made on December 5. The resolution that passed was reworked by Miller, Shalini Bahl-Milne (District 5) and Mandi Jo Hanneke (at large) after Bahl-Milne had stopped debate on Miller's original resolution, using her right under charter provision 2.10(c).
Griesemer defended the omission of the PFAS bill in her report by noting that the council had already voted unanimously to allocate an additional $900,000 to the track and field project on December 5 to be used either for an artificial turf field or a grass field. This vote was a revote from November 21 , when the council voted not to fund an artificial turf field by a tie vote. Griesemer justified taking up the measure again because of "new information" received by the council in the form of a letter from School Superintendent Michael Morris and Athletic Director Victoria Dawson repeating their support for the use of artificial turf. Both had already made their views known to the council during the discussion prior to the vote that did not approve funding for artificial turf..
Ellisha Walker (at large) pointed out that, although she did not see how the letter from the school was new information, the proposed omnibus bill before the state legislature to ban all commercial products containing PFAS does constitute new information that was withheld from the other councilors.
Miller noted that Griesemer's own notes memorializing the conversation (notes she did not share with the council or include in her President's Reports) said, "Jo has filed a bill to ban all PFAS products. Bill would make alternatives necessary." Walker and Miller suggested that Griesemer's notes from her meetings with the legislators be made public, so that those not attending would have a better idea of what occurred at those meetings, and suggested that maybe other councilors could attend some of those meetings.
The communications with Senator Comerford regarding PFAS legislation came to light when Vira Cage filed a public records request for all of Griesemer's communications over the past six months to get information on meetings she had arranged between the police and town councilors after the controversial encounter between nine teenagers and two police officers early on July 5. Information about those meetings was not shared with the public.
Dorothy Pam (District 3) said it would have been helpful to talk about the dangers of PFAS, especially to adolescents, that are enumerated in the omnibus bill that Comerford is co-sponsoring (SD 2053) at the time of the discussion of the resolution on December 12. Pam said that "those who talked about the dangers of PFAS to adolescents were made to feel foolish and endure aggressive body language from attendees in the audience".
Bahl-Milne countered by repeatedly claiming, falsely, that artificial turf was not covered by the omnibus bill. She also complained that she was "not heard" when she presented research that showed that artificial turf is not a huge health concern. It should be noted that the overwhelming majority of health experts, and the Amherst and Pelham boards of health, disagree with that point of view.
Andy Steinberg (at large) suggested that at times there may be pending issues that legislators aren't ready to make public, but Miller responded that the leaders of the council meet with the legislators "to conduct the business of the council, not to have proprietary information that other councilors don't have access to." Walker concurred, saying, "Sometimes I feel personally excluded, that other councilors have information that I don't have." Also, in the case under discussion, Comerford had asked that the topic be placed on the agenda, and shared with the Indy precisely what she had shared with Griesemer.
Griesemer defended her handling of the discussion about PFAS that took place during their meeting, but has arranged for Comerford and Domb to attend the March 6 council meeting to talk about the bills they are working on and answer questions. About her note that the artificial turf might have to be reconsidered if the omnibus bill passes, Griesemer said, "I am not even clear why I wrote that."
Council Retreat Proposed But Councilors Disagree On Its Purpose
Some personal attacks in exchanges among councilors and the frequency of extremely long meetings led Miller to propose a half-day retreat to "develop strong rules of procedures in order to advance best practices" and to reaffirm council values. In support of developing explicit procedures, she said, "We have kind of a family, but when we disagree, it can feel personal."
Pam Rooney (District 4) agreed that a retreat is a "great idea". Her fellow District 4 councilor, Anika Lopes, expressed concerns about who would facilitate the retreat. She added that she feels councilors are elected to represent the community and should not take remarks personally. She went on to say she has heard some councilors say that they are the "independents" with no discussion and without knowing other councilors personally. She continued, "So when you make these claims publicly, you are spreading misinformation, and it's manipulative to the public. That depends on our truth." She said her priority is to "bring all constituents' views to the table."
Hanneke felt that a retreat should be devoted to developing goals for the remaining 11 months of this term, rather than advancing best practices and values. Griesemer called on interested councilors, perhaps those on the GOL committee, to work on an agenda for the retreat, and said she will poll councilors on possible dates.
Proposal To Extend Voting Rights To Lawful Permanent Residents For Municipal Elections Referred to Governance, Organization, And Legislation Committee
Pat DeAngelis (District 2) and Bahl-Milne proposed a request to the state legislature for a Special Act allowing Amherst to permit non-citizen permanent residents to vote in local elections . DeAngelis pointed out that, according to the 2020 census, there are 6,890 foreign-born residents of Amherst, and 4,289 are not citizens, meaning they have no vote on matters that affect them, such as taxes, policing, and government. She added that the town has long supported this measure, with Town Meeting representatives voting four times since 1996 in favor of it, but it never had the support of the state legislature. She stated that both Domb and Comerford have agreed to shepherd the proposal through the legislature. Several towns in other states have this provision, and several in Massachusetts, such as Northampton, Boston, Wayland, Cambridge, and Warwick are seeking the approval.
On a personal note, Bahl-Milne recounted her experience in achieving U.S. citizenship, and said it can be difficult and costly. She had to decide to give up her citizenship in India to become a U.S. citizen. She noted that the right to vote gives a sense of belonging, and added that the town is losing out on the potential contributions that non-citizen residents could make.
In the only public comment of the evening, Amherst resident Razvan Sibii spoke in favor of the Special Act. He said that citizenship did not generally precede the right to vote until the 1920s.
The matter was referred to GOL
Farmers' Market To Return To South Common
The council unanimously approved the use of the northern part of the South Common for the Farmers' Market from April 22 through November 18. The approval includes the use of six parking spaces along Boltwood Avenue, 15 spaces in the Spring Street lot, and five spaces on South Pleasant Street. Rooney was concerned that this use would interfere with the Odenong Pow Wow scheduled for the South Common in the spring, but the organizers of the Farmers' Market said they would move the market to the Spring Street lot for that day if requested by the Pow Wow, and thought that the Pow Wow might not require use of the area of the common where the Farmers' Market is located.
Schoen Questions Process for Sweeping Zoning Amendments
First, Community Resources Committee (CRC) Chair Hanneke announced that the committee would hold another listening session on the Rental Registration Bylaw and possibly on the Nuisance House Bylaw on Monday, February 13 at 7 p.m. Information will be posted when the agenda is set.
Then Hanneke announced a public hearing on the zoning amendments to ease permitting on duplexes, triplexes, and townhouses on March 2. The Planning Board, she said, will open its hearing on the amendments that she and DeAngelis are proposing together on March 1. Hanneke and DeAngelis have been asked to present their proposed changes to the Affordable Housing Trust on February 9 and the Zoning Board of Appeals on February 16.
Cathy Schoen (District 1) questioned the process of introducing the zoning amendments to the Planning Board and Zoning Board of Appeals before giving the council a chance to discuss and comment on them, and before the CRC has been able to discuss and refine them. Hanneke argued that some other proposed amendments, such as a proposed solar moratorium, a proposed moratorium on large new residential buildings downtown, and a proposal concerning a downtown parking garage went directly to the Planning Board for hearings, but Schoen pointed out that the implications of the sweeping changes Hanneke and DeAngelis are proposing have not been adequately reviewed and discussed..
Jennifer Taub (District 3) shared Schoen's concerns. She noted that soon after this council was seated, Rooney asked that a task force study retention of workforce housing, but that it had never been created. Griesemer explained that she and Rooney were unable to decide who would be on the task force, whether it would be a committee of the CRC, and specifics about how it would work.
Steinberg noted that "one or two members of the council are introducing sweeping changes that take up lots of committee and staff time" and suggested that the proposed changes should be discussed among councilors before public hearings take place.
Griesemer recommended that GOL look at the part of the council's Rules of Procedure that govern the introduction of zoning changes to see if there should be a council discussion before a hearing is scheduled. State law sets a deadline for when the hearings must be scheduled, so legal opinion may be required.
Hanneke Appointed To Joint Capital Planning Committee
Devlin Gauthier resigned from the Joint Capital Planning Committee (JCPC). Both Pam and Hanneke voiced a desire to serve on that committee, on which Rooney and Schoen already serve. Hanneke has already served on it for several years. Pam has served on the Finance Committee in the past and expressed wanting to be more involved in financial decisions again. Hanneke was chosen by a vote of 7-5, with Miller, Taub, Pam, Rooney, and Walker voting for Pam. DeAngelis was absent at the time of the vote.
After the vote, Miller spoke for appointing councilors with diverse experiences and sharing leadership responsibilities among councilors, although she emphasized that she was not specifically criticizing this vote.
Community Preservation Act Awards To Be Discussed At February 21 Finance Meeting
Finance Director Sean Mangano gave a brief presentation on the $2,349,000 of Community Preservation Act (CPA) funds recommended by the CPA committee (CPAC). The committee also recommended borrowing $700,000 to help finance the renovation of the athletic fields at the planned elementary school at the Fort River site. Another $433,000 was allocated to debt service from money previously borrowed. The CPA reserve has $170,000, which may be used for the repair of the North Amherst church. Church members are still working with town staff to clarify their proposal, which may be presented to the CPA committee in the future. Mangano explained that, because the requests greatly exceeded the amount of money available, one project needed to be funded through borrowing. Borrowed funds can only be used for capital projects, so the Fort River athletic fields project was chosen. (chart on p. 7 of document)
The Finance Committee will discuss the CPA proposal at its February 21 meeting. The council will hear the recommendations on February 27.
Town Manager Report And Appointments
Town Manager Paul Bockelman commended public safety members and the community responders of CRESS for making sure all residents had safe accommodations during the weekend freeze. He also commended CRESS Director Earl Miller and DEI Director Pamela Young for organizing the Grief Circle in the wake of the murder of Tyre Nichols at the hands of the Memphis police. He congratulated Town Clerk Sue Audette in receiving certification as a municipal clerk and Assistant Superintendent of Public Works Amy Rusiecki for receiving a water management award. The full Town Manager report can be read here.
Announcements
Winterfest wraps up on Saturday, February 11 with Fire-and-Ice ice sculptures and a luminaria.

An opening reception for the Ancestral Bridges exhibit of historical photographs of Amherst's Black population is from 4:30 to 6 on February 9 at Frost Library at Amherst College. The exhibit runs through the summer of 2023. Admission is free.

An Eversource petition for a new utility pole on South East Street was withdrawn because the council voted to require the service line, which connects with a new apartment complex, to go under the street. If the line is buried, no approval from the council for a new utility pole is needed.

Mandi Jo Hanneke thanked Assistant DEI Director Jennifer Moyston for her handling of the Chinese New Year celebration on January 29, when about 200 people attended, many more than were expected.
The meeting adjourned at 10:17. The council next meets on February 27.