New Social Justice Committee Sets Agenda For Greater Inclusion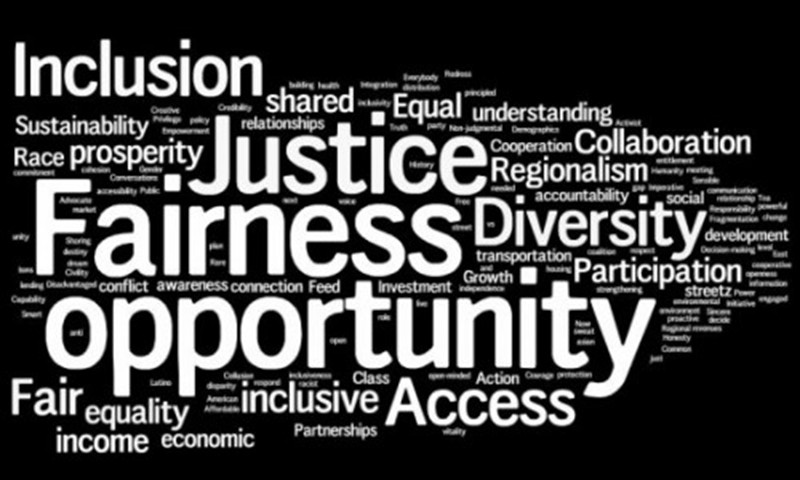 The first meeting of the town's Community Safety and Social Justice Committee (CSSJC) was held on Wednesday, June 1. The meeting was held over Zoom and was recorded. Recording can be viewed here.
Present
Committee Members: Allegra Clark (co-chair) , Demetria Shabazz (co-chair), Freke Ette, Debora Ferreira, Pat Ononibaku, Phillip Avila

Staff: Jennifer Moyston (Assistant Director of Diversity, Equity and Inclusion and staff liaison to the committee), Paul Bockelman (Town Manager), Sean Mangano (Finance Director), Earl Miller (Director, Community Responders for Safety and Service /CRESS)
Election Of Chair
The committee elected Allegra Clark and Dr. Demetria Shabazz as co-chairs of the committee.

Budget Presentation And Discussion
Sean Mangano gave a PowerPoint presentation on the town operating budget, highlighting the different pathways for requesting funds and the timetable for doing so. The PowerPoint will be posted to the CSSJC website (Community Safety and Social Justice Committee), which is currently under construction.
Pat Ononibaku and Demetria Shabazz both commented that the budget process is long and complicated, and even though they have lived in town for many years and have been civically active, it remains unclear to them. Hence, they worry about it being accessible to others and questioned Mangano on how the town might make the budget process more accessible. Shabazz also asked about funds that have been acquired through State Representative. Mindy Domb for translation services.

Mangano replied that about $80,000 was received for that purpose and had been allocated for increasing community participation and translation, and that responsibility for determining how the funds would be spent had been handed off to the town's Community Participation Officers Jennifer Moyston, Angela Mills and Brianna Sunryd.
Shabazz said, "I would think that social justice and community safety should be part of that conversation."
Mangano replied that fortunately, Moyston is the town liaison to the CSSJC and the committee can readily share their input on how the funds ought to be used.
Debora Ferriera said that she thought that these kinds of decisions, such as those involving translation services, ought to be more inclusive and that as the charge of the CSSJC is developed, everyone ought to think about how CSSJC might be involved and how they might facilitate broader inclusion. She added that more clarity is needed about CSSJC's involvement in such decisions and how the CSSJ will have input into the budget process.
Completing The Committee's Charge
There is one vacancy on the committee. Both the committee members and Bockelman expressed a desire to fill it with a younger person.

Bockelman Reviewed The Draft Charge of the Committee.
CCSJC is a town manager-appointed committee with seven voting members. Staff liaisons to the committee will be Pamela Nolan Young, who will be the first  director of the Diversity, Equity and Inclusion Department, and Jennifer Moyston.

The draft charge reads as follows:
The Community Safety and Social Justice Committee will work to advance diversity, equity and inclusion and community safety in Amherst. The committee may provide advice and support to all town government entities including the Town Council, Town Manager, town committees to fully realize the resolution "Affirming the Town of Amherst's commitment to End Structural Racism and Achieve Racial Equity for Black Residents" that was adopted by the Town Council in December 2020. The committee shall work to support all members of the Amherst community to understand and enjoy the benefits of a community that is truly diverse, equitable and inclusive of all and shall serve as a voice to marginalized and underrepresented residents.
The CCSJC shall:
Incorporate and continue the work done by CSWG for systemic change
Ensure the implementation of all CSWG recommendations adopted by the Town Council and/or Town Manager, and track progress, such as the Community Responders for Safety and Service (CRESS) program, the Diversity, Equity and Inclusion (DEI) department, the Youth Empowerment Center and the BIPOC Multicultural teen center.
Support the work of the DEI and CRESS P\programs and employees that address the needs of BIPOC and other marginalized groups including the disabled, immigrants, and LGBTQIA
Assist the town in exploring resources such as building for the youth empowerment center and the BIPOC multicultural teen center.
Recommend funding sources including grants focused on targeted priorities for marginalized residents with the most impactful and sustainable projects
Ensure that the town implements a robust translation service
Provide input to the Town Manager during the budget process

Following Bockelman's presentation of the draft charge, several members of the committee raised questions about the status of work towards creating a youth empowerment center and a BIPOC multicultural teen center. Bockleman responded that arrangements are being made to begin work on these projects under the aegis of Recreation Director Rey Harp, using ARPA funds.
Ononibaku responded to Bockelman, saying that these youth projects were a specific mandate of the CSWG, responding to a well-documented need of the BIPOC community, and that CSWG had made a specific recommendation that they be directed under BIPOC leadership. She asked why these programs were being established under the Rec Department.
She also asked about the compensation promised for people who had participated in public hearings by the CSWG. This compensation apparently never materialized. But Ononibaku noted that such compensation is a serious component of outreach if you want to get a full cross section of residents. "So what are we going to do about this moving forward," she asked. "If we're going to push for equity and diversity this needs to be apparent in our actions."

Allegra Clark observed that much of the discussion at the meeting had been about budget matters but that there hadn't been much mention of Part B of the CSWG final report , which talks about policy recommendations. "Shouldn't that be in the charge as well?" she asked.

Ononibaku noted that some of Part B will be part of the work of the Resident Oversight Board (ROB).

Shabazz asked for further clarification about the status of the ROB. Will the CSSJC help shepherd that into existence? She concurred that Part B of CSWG final report seemed to be covered in the mandate for an ROB.
Debora Ferriera said, "I think we ought to be keeping track of how the town is following up with all of the recommendations that CSWG made. We want to make sure that the ROB gets up and running. We want to make sure that the town is moving forward with CSWG's recommendations."

Shabazz said that "people are already approaching us [members of the CSSJC] with questions about how we can limit policing for low level resident complaints," and asked,  "So what's the timeline on the ROB?"
Bockleman responded that the ROB will be under the aegis of the DEI director.
CRESS Presentation
Earl Miller, the director of the town's new civilian responders service, Community Responders for Equity Safety and Service (CRESS) offered a brief progress report on CRESS implementation.

He reported that the implementation team is doing community outreach events, which include meeting with folks who have some concerns about mental health interventions and with parents who have concerns about how CRESS might be interacting with youth. He said that their aim is to increase people's knowledge of CRESS on a "regular" day for them and not in the midst of a crisis, and In so doing, capture their input. The implementation team has been reaching out to schools and  connecting with the JEDI (Justice, Equity, Diversity, and Inclusion Committee) program at the Amherst Survival Center and with the Amherst Chamber of Commerce's equity and inclusion task force. The next CRESS outreach event will be held at the Village Park Apartments on June 11. 

Miller indicated that he believes CRESS will be fully staffed when it starts up sometime in July and that responder training is targeted to start on July 5. He said that although the candidate pool for responders has not been large, it has been exceptional and has inspired a lot of confidence.

Ononibaku said that she would like to know more about the DEI initiatives of the Amherst Chamber of Commerce. She said that she knows that there are people in the BIPOC community who feel alienated from or excluded by the Chamber. And yet it appears to be getting funding from grants, or perhaps taxpayer-supported funding, for diversity initiatives. So, she would like to know what they are doing and who they are serving. She added, "…and I say this as a former member of the Chamber. I have concerns and want to know more."
Shabazz requested town approval for the committee to connect with Amherst Media and request that they cover CSSJC meetings. There were no objections, and indeed there was encouragement for her to do so.
The CSSJC will meet again the second or third Tuesday in July and will then set a regular meeting date after Young comes on board as the director of the Diversity, Equity, and Inclusion Department.