Opinion: What's Wrong With This Picture?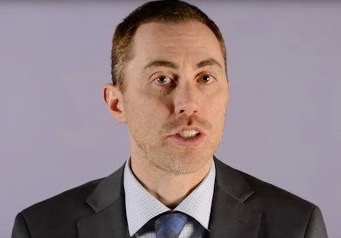 by Art Keene, Jena Schwartz, Maria Kopicki, M.J. Schwartz, Ali Wicks-Lim, and Maura Keene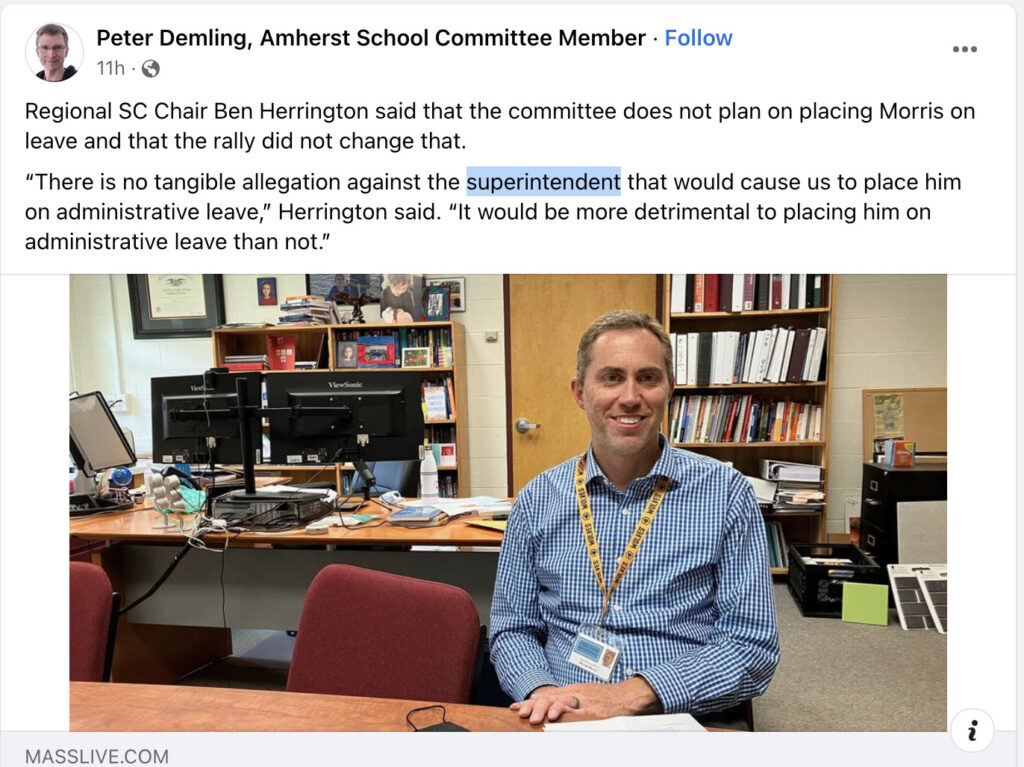 Calls have been growing for School Superintendent Mike Morris to be placed on administrative leave pending an independent investigation of his role in the failure to respond to complaints about bullying of LGBTQIA+ students at the Amherst Regional Middle School over the last two years.  (see e.g. here, here, and here). Morris began a self-imposed mental health leave on May 12, 2023, just as the crises at the Middle School were coming to a head, and returned from that leave on July 13, 2023.  These calls are in addition to a yet-unaddressed vote of no confidence in Morris, and call for an independent investigation, supported by over 80% of the members of the Amherst Pelham Education Association (APEA) on May 9, 2023.

In a Facebook posting dated August 1, Regional School Committee (RSC)  member Peter Demling reported that RSC Chair Ben Herrington said that the committee does not plan on placing Morris on leave and that the rally last Friday calling for Morris to be placed on leave did not change that.  He then quotes Herrington from a news release as saying "There is no tangible allegation against the superintendent that would cause us to place him on administrative leave. It would be more detrimental to placing him on administrative leave than not."
There are several things that are deeply disturbing about this post.
1. The RSC does not appear to have met to discuss the issue of placing Morris on leave. Herrington's assertion that the RSC will not consider placing Morris on leave until he is independently investigated, in spite of growing calls from the public for doing just that, is perhaps Herrington inappropriately and imprudently representing his own opinion as that of the RSC. This is harmful to the public process and to the public's ability to trust the district leadership. And if this IS the position of some members of the RSC, who have subsequently determined that this represents the outlook and intention of the majority of the committee, then this conclusion would appear to have been arrived at in violation of Open Meeting Law. In any case, Demling and Herrington appear to be preempting legitimate calls and concerns of the community, arriving at a decision without allowing for proper public deliberation.
2.     Herrington notes that the committee was not influenced by the community rally on 7/28 in support of LGBTQIA+ students.  The comment unfortunately reflects the contempt that several members of the RSC have shown for the public (see e.g., here, here, and here) throughout the ordeal of last spring.  And it leads us to wonder if there is anything that would move this body to take community concerns seriously and to trust and believe students and parents when they point to harmful/dangerous conditions in the school.
3. Herrington is an employee of the Amherst Regional School District. As such he is a subordinate of Morris. His conflict of interest here is considerable and he has no business sitting in judgment of the disposition of complaints against Morris, nor should he be setting the policy on whether Morris is to be investigated. He has an obligation to recuse himself and to refrain from public comment on the issue.
4. Herrington claims that there are "no tangible allegations" against Morris that would justify placing him on administrative leave. This suggests that he has not been listening for the last four months as serious charges of obstructing investigations and violating responsibilities as a mandatory reporter have proliferated. It is possible that Morris not only acted irresponsibly and maliciously; he may have violated the law. We wonder whether Herrington and other Morris defenders would find any accusation or any demonstrated malfeasance to be sufficiently tangible to merit further investigation.
5. The irony of Herrington's assertion that there are no tangible allegations, is that this is precisely the same argument that Morris offered last April to justify his own inaction in response to growing complaints about abusive behavior toward LGBTQIA+ students on the part of the Middle School adjustment councilors. As late as April 25, Morris asserted that no actionable complaints had come to his attention, even as he was aware that a Title IX investigation into such discrimination was underway. That lie alone (and there were others) appears sufficiently tangible to merit an independent investigation.
6. In defending Morris and eschewing an independent investigation, and in adhering to their practice of inaction (see here, here, and here), the RSC has staked out a position as a partisan body unwilling to represent the community that elected them and unable to discharge their duty to protect the children that attend the Amherst Schools. In so doing, they have forfeited whatever credibility that they may have retained following their inaction of the last four months and they have also sacrificed the trust of the community that they were elected to serve.
Conclusion
Speaking with the Daily Hampshire Gazette in response to the APEA and deepening frustration that in lieu of accountability, the district is placing the onus for change back on teachers, Peter Demling offers a master class in gaslighting when he implies that teachers are not interested in the proposed LGBTQIA+ trainings and states, "I think confronting our own bias like this takes real and sustained effort." It is the administration that has failed the students, yet they are not taking responsibility. It was teachers and staff (excepting the three counselors on leave) who have been trying to protect and support the students, yet Morris' plan implies that the problem was a failure of staff.
If Demling, Herrington, and other members of the RSC actually believed in the importance of "confronting our own bias", they would respect and heed cries from the public to look at what's wrong with this picture – and act accordingly.